Journalists use social media platforms to publicize their resignations.
Even as Jammu and Kashmir police registered FIRs against active terrorists and Over Ground Workers (OGW) for threatening journalists, at least five journalists working in local newspapers in the Kashmir Valley resigned after that some terrorist groups have referred to them as "agents of the security agencies". ".
To force the media to follow their dictates, it is the strategy of the terrorists and their mentors sitting on the other side of the border to label any journalist an "agent of the security forces" only for reporting on objection.
According to reports in local newspapers, five journalists resigned after terrorists published a list of more than a dozen journalists, accusing them of working for security agencies.
New terrorist threats against journalists were launched last weekend on a social media platform. The people on the list are the editors of two prominent newspapers in Kashmir.
According to reports, three journalists posted resignations on their social media pages to avoid any trouble after terrorists threatened anyone working for some media houses in Srinagar.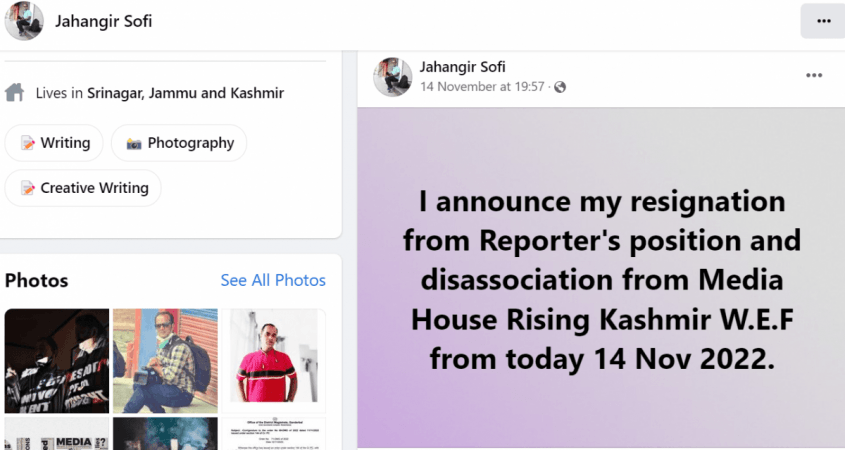 "I've reported on civic issues, water, sewer and transportation. I've never reported anything on the military or covered any military function until now. Yet they m 'called an army informant,' the journalist said in his message.
Pakistan-based terror portal becomes active online again
A terror portal operating from Pakistan – implicated in the assassination of a veteran journalist, has become active again with its terrorist motives against the people of Kashmir.
Reports indicate that the terrorist portal blocked in India has published new objectionable content to defame the image of some journalists and institutions in Kashmir.
In July 2021, the Jammu and Kashmir police had dismantled a module of white-collar terrorists – which was behind threats against social activists, politicians, bureaucrats, government officials and journalists, on the instructions of their mentors, seated in Pakistan.
One of the members of the white collar terrorist syndicate was a senior Srinagar Municipal Corporation (SMC) officer and his two children.
Police say Kashmirfight.wordpress.com was run by a white collar worker terrorist syndicate whose task was to prepare a strategic list of government officials, journalists, social activists, lawyers and political officials who were assessed by the union as being responsible for undermining the overriding objectives of pursuing and to support the Pakistan-backed terrorist program with the eventual objective of secession of Jammu and Kashmir from the Indian Union and its eventual annexation to Pakistan.
TRF threatens journalists
Police said the Resistance Front (TRF), which is an offshoot of Lashkar-e-Toiba, is behind the threats.
A First Information Report, or FIR, under the UAPA counter-terrorism law, has been filed and investigations have been launched.
Case filed against the managers, active terrorists and OGWs of the terrorist group LeT and its subsidiary TRF for the publication and dissemination online of a direct threatening letter to journalists and reporters based in Kashmir. FIR No. 82/2022 U/S 13 UAPA, 505, 153B, 124A & 506 IPC in Shergari PS.

— Srinagar Police (@SrinagarPolice) November 12, 2022
"Case filed against Managers, Active Terrorists and OGWs of Terrorist Group LeT and its affiliate TRF for publishing and spreading online a direct threatening letter to Kashmir-based journalists and reporters," the police tweeted.
"FIR No. 82/2022 U/S 13 UAPA, 505, 153B, 124A & 506 IPC at Shergari PS," Srinagar Police wrote on Twitter.
A police official said the content of the threats portrayed the intent of terrorists and anti-national elements.