6 types of social media content for your small business
When you understand not only what your audience likes, but also the types of content that help them decide to buy your product or service, you can create the perfect mix of content.
Social content comes in many shapes, sizes, and levels of engagement. For social media, visual, interactive and entertaining content provides the best short-term results.
But you're probably more interested in a content strategy that delivers real, tangible, long-term results for your business rather than just views and likes.
If so, you need to come up with an effective social media strategy to get the right mix of content. Start by understanding your target audience and their media consumption habits.
Some content will help build awareness of your brand or educate your audience about your products. Other content will focus on convincing or inspiring your audience to make a purchase or some other form of customer engagement.
A great framework for identifying types of content for each purpose is the Smart Insights Content Marketing Matrix, which defines four basic functions of content: entertainment, inspiration, education, and purchase.
Some great types of content you can add to the template are co-generated and user-generated content.
What content is right for your business?
A good rule of thumb for creating an optimal content mix is ​​to reduce calls-to-action and shopping-focused content to around 20%, but this will vary depending on the product or service you're selling. Calls to action should be higher if the decision cycle is short and the buying decision is emotional.
This is usually the case in the fashion industry, where visual content like videos and images are predominant.
On the opposite end of the spectrum, long decision cycles and rational decision making should involve building a relationship with the audience and nurturing them towards a buying decision using forms of content such as white papers and webinars.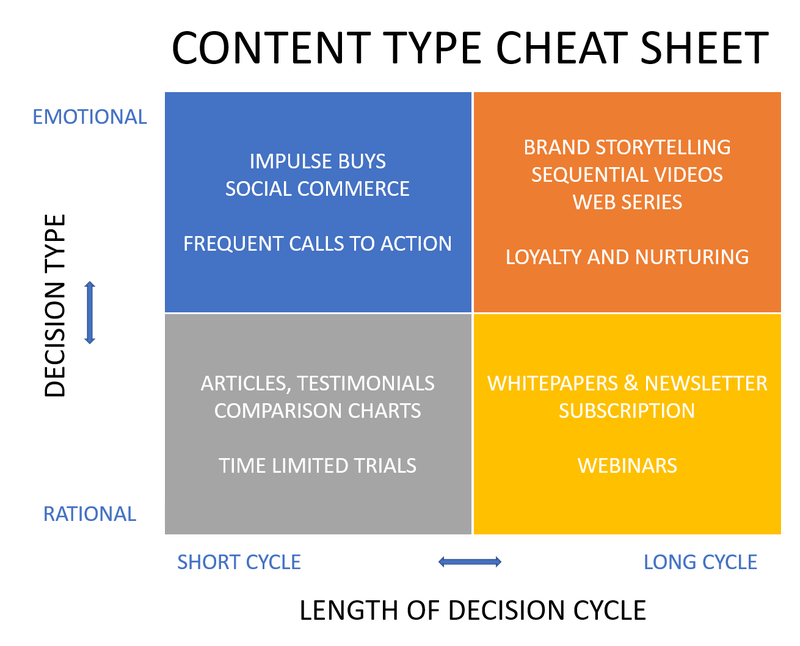 Once you have a good overview of your social media post ideas, a great way to balance content types is to create a content calendar of post dates, content items, and social networks.
Some social media management tools will let you label the type of content with a color in their content scheduling feature.
But to use all these types of content on social media, you will need to publish them through a limited number of posting options provided by social networks.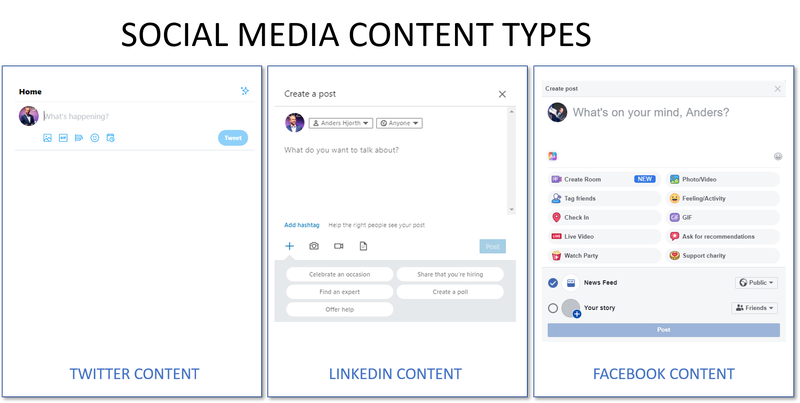 The 6 types of social media posts for small businesses:
Photo or video posts
Text items
Polls
Registration
Live Video
Product labeling
Type 1: Photo or video
One of the big types of social media posts is a photo or video post. Instagram's philosophy is to seize the moment by taking a picture with your mobile phone for your next post.
For professional purposes, however, it is worth shooting with professional equipment to ensure the quality is high. It's also a good idea to plan posts in advance and schedule your post to multiple networks through a tool.
When you post videos, you should always post them natively on each social network. This means uploading the original video file to that specific network.
You might be tempted to post your video to a video network like YouTube or Vimeo and then link from your other social network to the video, but the reach of the video is penalized when you do this. Indeed, each social network has its own compression algorithm to optimize the user experience.
Another reason is that social networks do not like links to external resources, which means that users will leave the social network to continue the user journey. It can be helpful to use some form of social media advertising to ensure distribution of your video content.
Type 2: Write text, links and hashtags
Text posting is the most common type on social media. But text alone rarely grabs your audience's attention. Facebook lets you spruce up your text by displaying it on a colored or image background and improving the format of the text.
Text messages may also include links to pages outside the social network. This is one of the ways you can link to content you've created elsewhere. When you insert a URL into a social network, they fetch the page and automatically include the featured image and your post title. It makes an item look great.
However, you should always remember to add your own text at the top of the post: why are you posting this? What do you think? Would you like to hear other people's opinion on this?
Also be clear about what is more important in the post: the content of your post or the content it links to. If you want users to visit the link, make a call to action for it.
A good way to improve the engagement rate of a text message is to tag people. Tagging is accomplished by using the @ sign and then typing the person's name. After typing a few characters, the social network will offer you matching user profiles so you can select the one you want to tag.
Tagged users will be visible in your message and will also receive a notification. You can use tagging to alert people that you've mentioned them, and you can also use tagging to ask people specific questions to solicit engagement: "What do you think, @theblueprint?"
Hashtags are similar and possible on most posts. These exist on most social networks, but they have a more active role on Twitter, Instagram and Pinterest. Facebook and LinkedIn have adopted them, but their use has less impact on these networks.
Type 3: Create a poll
Polls have been around for a long time. They are interactive, relevant and easy to set up. They have their own type of content on Facebook and Twitter and have recently been added to LinkedIn.
A survey can be used to engage users, but it can also be used to learn more about preferences, or even to find answers to a business dilemma. You can only ask one question and have a limited number of answer options.
By setting an end date, you ensure that the survey ends. The poll output itself is an interesting piece of content that you can reuse in other posts.
Type 4: Recording
Recordings are a unique type of content that is not available on all social networks. They are often underestimated, but their effect will show up in a social media audit as a positive contribution to page reach.
Recordings are most notable on Facebook, where they can act as a bridge between the online and offline world. When a user connects to a page, it creates a social media notification post on the users network.
It thus creates an awareness of the page in which the user has registered. When the page belongs to a physical location, check-in suddenly takes on additional meaning. This means that the user is actually in that location and can bring awareness to a physical location.
Type 5: live video
One of the great benefits of social media is how it can help small businesses. Thanks to social media, the barriers to entry into communication, advertising and video production have all but disappeared.
Businesses today need to focus more on what do that how to do. In the case of live video, Facebook recently updated its live video interface, the Facebook Live Producer. It can help businesses move from their early stages of live video to professional setups using advanced tools and equipment.
This allows small businesses to engage in live video as if they were large corporations with large communication budgets.
Type 6: label products
On Facebook and Instagram, you can tag products in your posts, allowing visitors to buy them. It's the emergence of social commerce and it's ideal for simple, emotion-driven purchases. When a product is tagged in an image, it can be clicked and purchased directly from an online store.
Google has announced that it wants to go in the same direction, by making shopping accessible from any content published on its platform.
Will users adopt social commerce at scale? That remains to be seen. For the right product at the right time, it improves the user experience by reducing the number of steps required to purchase a product. If the product or service is attractive, removing barriers can have a positive impact.
However, if you didn't convince the user in the first place, or they're in the middle of a long decision process, tagging products in your images won't do you any good.
Determine the content you need; the rest is easy
Your audience is made up of people – people like you and me, who want to interact on social media, but on their own terms. They probably aren't interested in how you create your products unless it makes for a great story.
If you understand what content resonates with your audience, you will have come a long way. But understanding their decision-making process and their criteria for choosing a supplier is even more important.
Hit the right triggers at the right time, stay in touch, and stay relevant as users make their decisions. Give them the information they need to make those decisions.
The key to business success on social media is to engage your audience on their terms and nudge them in your direction with the right content to prepare them to choose your product or services, and then make it easy for them to buy.